#Booklyfe: Book-Con 2018
Book-Con was more than your average book convention, it was literally book-heaven as the Jacob Javitz center played landlord to this event. For those who are not familiar with Book-Con, it's a convention where famed and indie book authors display their titles and based on the book, age-appropriate groupies collide to create an authentic literary experience for all. ReedPop really summarizes it best when they say, its where 'Pop culture and Storytelling collide'.
As this was my first Book-Con it was overwhelming as I searched for books that catered to the African-American community (both in authorship and in character development) and because of my restrictive time line, I wasn't able to fully explore the con. What I did see on Saturday didn't disappoint as I navigated the Javitz center and saw some great titles.
The first booth I glimpsed was by the famed J.K. Rowling; 'Harry Potter- 20 Years of magic'. Has it really been that long? 20 years since the first publication of Harry Potter? I couldn't believe it. Harry Potter, the famed boy who vanquished the evil Voldemort (with help from his squad of course) and rekindled reading to a whole host of children!!!
My next visit was at the house of Simon & Schuster. For those who are unfamiliar with them they are a subsidiary of the CBS Corporation and is an American publishing company, which was founded in New York City in 1924 by Richard Simon and Max Schuster. Why are they relevant and why are they part of a website that focuses on comics and graphic novels? Well guess what? There is a branch of Simon and Schuster that is ripe with graphic novels and comics: Oni Press.
Oni Press, the famed premier comic book and graphic novel publishing house that is located in Portland, Oregon is also part of the Simon and Schuster House. For those who are unfamiliar with Oni Press, they are the ones who assisted in the publication of the famed Invader Zim comics, which was later translated into a cartoon show on Nickelodeon (in the 90's), The pop culture graphic novel, Scott Pilgrim, which was also turned into a great movie starring Michael Cera and dare I say it… Chris Evans; which we all know as Captain America in the Marvel Cinematic Universe!! And who can forget; Cartoon Network's Favorite Adult Swim show… Rick and Morty! Yeah, they also did that!! Who knew?!
I also had the pleasure to speak with one of the editors at Oni Press and she mentioned one of the graphic novels that I should be on the look out for: Sci-Fu by Yehudi Mercado.
Sci-FU is the story of a DJ named Wax, a mix-master (DJ) in the 1980s who creates the perfect beat and summons a UFO that transports his family, best friend, and Girlfriend crush to the robot-dominated planet of Discopia. In order to fight this intergalactic menace, Wax and his squad now have to master an intergalactic martial art known as Sci-Fu to beat them. Sci-Fu is a graphic novel which is full of both music and martial arts. It looks incredible and in my opinion, it also looks promising as a cartoon hit by either Cartoon Network's Adult Swim or Disney's XD channel.
Next, my visit took me to the world of Harper Collins: Children's Books Epic Reads collection where I saw the Children's book: Hidden Figures: The True Story of Four Black Women and the Space Race. The children's book was based on the New York Times bestselling book, Hidden Figures: The American Dream and the Untold Story of the Black Women Mathematicians Who Helped Win the Space Race, which was later adapted into a phenomenal movie. Written by author Margot Lee Shetterly and illustrated by Laura Freeman, they bring in picture form, the incredible story of four highly intelligent black women (Dorothy Vaughan, Mary Jackson, Katherine Johnson and Christine Darden) as they helped NASA launch men into space as they participated in providing the mathematical calculations for America's first space journey.
I also saw another book that really grabbed my attention and affected me deeply. That book was 'The Hate you Give', by Angie Thomas. This book is really a keeper as it focuses in on Police Brutality, Racism, the power of being silent, and above all, the truth of a racially charged society. Additionally, this book won the William C. Morris Award, the National Book Award, the Michael L. Printz Award, Coretta Scott King Award and was named a New York Times Bestseller. It is also being turned into a movie as we speak (See below).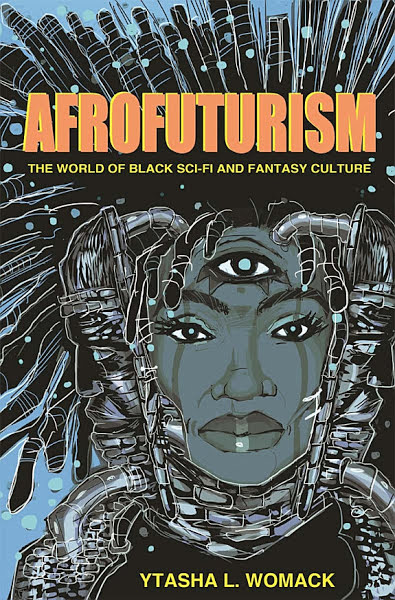 As my journey was approaching the end, I managed to have one last experience in the world of Science fiction through the books: Afro-futurism and Black Comixx Returns. In the book Afro-Futurism, written by author Ytasha Womack, she explores the world of sci-fi through artists who create using Afrofuturist works. Her focus deals with innovators from both past and present as she examines a wide range of subjects. From the sci-fi literature of Samuel Delany, Octavia Butler, to the musical cosmos of Sun Ra, George Clinton, and the Black Eyed Peas' Will.I.AM, to the visual and multimedia artists inspired by African Dogon myths and Egyptian deities. I was also, able to meet her and get my book signed as well.
With Black Comixx Returns (published by LionForge), creators: Dr. John Jennings and Dr. Damian Duffy created another outstanding anthology of comic book artists, underrepresented in comic book society, by focusing on both the past and present works of comic book art. What makes it even more interesting was that I thought that this was the 1st anthology only to find out that this is their second. I quickly bought a copy of the second, and 'Amazon-ed' the first issue to find out the 1st edition is worth quite a penny.
Overall, what made Book-Con so much fun was the rich tapestry of diverse authors and books from around the country. Although, I wasn't able to stay for the whole time, my only regret was that I wasn't able to stay longer and spend more money. I strongly recommend any author, whether indie or well sponsored by major corporate entities to go and promote your work and book-heads to attend. Book-Con is definitely growing, so make sure you become part of the experience.